About nine months ago, I was asked to serve on the leadership team for a church communications group based out of Indianapolis. Since I am so new to this type of communications strategy and thinking, it was (and continues to be) a huge honor. We meet four times a year at a gathering called the table to do training, brainstorming and commiserate with people who do the same job we do in their own congregations. It's always a great time and a great way to find common ground and hear how others face and overcome challenging situations and people.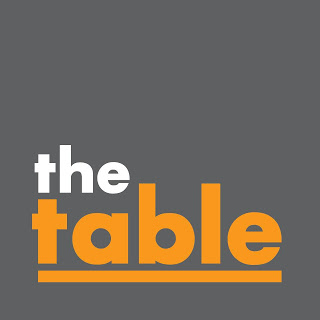 Our most recent meeting was about alignment, which is something that every church staff struggles with on some level at some time. I've been thinking about it a lot as we go into summer and I have a little more time to spend thinking about how we communicate, where we succeed, where we fail, and how we can move toward being aligned throughout our ministries and congregation. Here are some of the takeaways I learned at our most recent meeting. I think they can probably apply to your job and work, as well.
Alignment doesn't just happen.
Alignment takes work. It takes honest, sometimes hard, conversations. It takes a focused effort to make changes and keep with the plan, even when it would be easier to just "let something happen" this one time. Alignment means that everyone has a part in the process and a piece of the puzzle. Clearly defined job descriptions are crucial to alignment. People need to know what is expected of them – AND what they can expect of you.
Alignment doesn't work without top-down support.
For your teams and ministries to be aligned, your senior leadership really needs to be on board. That means you have to communicate regularly and honestly with them about where alignment succeeds and fails. You have to be able to talk to your senior leadership and have earned their respect. I've been at Sherwood Oaks for 10 years now and there are conversations and relationships that happen now because of the investment that started the first week I was on the job. If your senior leadership doesn't understand why things need to be done a certain way, take a long hard look at how you communicate your needs to them, too. It's always a two-way street.
Alignment means saying no sometimes.
We all want to support everyone in their ministries and passions. But, not everything gets equal billing all the time. If you find yourself saying yes to everything, you will be misaligned, out of focus and constantly trying to catch up while supporting events and programs. Instead of just saying no, though, learn to cultivate a "no…but" personality. You may not always be able to give people what they think they want, but there is usually something you can do to help them in some way. This means that you'll have to be creative and you'll have to have the time to work closely with ministries and teams to help them succeed. No isn't a value judgment and should never feel or be treated as such.
Alignment takes time.
It won't happen overnight. Set a timeline for the changes you would like to see occur. What can you implement now? What will take a little longer to figure out? What changes need to be made now to set yourself up for alignment in the future? Are you making changes now that are pushing you toward future successful alignment?
Alignment is a team sport.
You can't do it alone. Whether you are a one person team or someone leading several others, alignment is impossible if you try to do it all yourself. You have to take the time to find volunteers or staff people who can buy into the vision and then make sure they always feel like they're part of your team. Don't make decisions without someone after you've asked them to serve with you. Value the input of people who work and think differently than you and see how together you can find alignment.
Alignment challenges what you've done and what you want to do next.
Truly being aligned means you will have to look at every aspect of how you communicate and then see if it fits or doesn't fit with the system adopted by your ministry or group. Things that you've always done won't be viable anymore, and even new ideas may not fit in your new set of guidelines.
As you can tell, I've been processing these alignment thoughts for a few weeks now and am finally able to articulate some of what I learned. What are your thoughts on alignment?