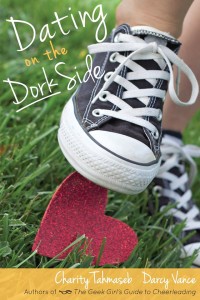 Oh, the ins and outs of dating and high school. Honestly, I don't miss those days often, but books like Dating on the Dork Side make me a little bit nostalgic.
Dating on the Dork Side is a quick and hilarious read about what happens when one of the smartest girls in school stumbles upon a website that just happens to be all about the girls in her school – and not in a good way.
In Olympia, football is life. The jocks are the kings of the kingdom and the cheerleaders, pom squad and other popular girls join them in their rule. Until smart and savy Camy Cavanaugh shows the resident queen what the boys are saying about her behind her back. Suddenly Elle and the popular girls are ready to take a stand. Things at Olympia High may never be the same once Camy, Elle and the rest of the girls are done.
Dating on the Dork Side is a smart retelling of the classic Greek comedy Lysistrata. If you're not familiar with the story, here's a wiki. So when the girls decide to boycott the boys, everything changes at Olympia High. With unlikely new friendships, more than one moment of drama, and a lot of laughs, Dating on the Dork Side is guaranteed to make you laugh, cringe and root for the underdogs. At the same time, Dating on the Dork Side reminds readers that people are seldom what they seem at first glance. The popular girl may just be a closet Star Wars fan. That kid you can't stand may have a passion for classical music. The cutest boy in school might just have a thing for the resident nerd. The mean girl may have a home life that makes yours look tame by comparison.
Authors Charity Tahmaseb and Darcy Vance have reunited to create a high school where the geeks and nerds have a say in how their high school experience turns out. Like their first book, The Geek Girl's Guide to Cheerleading, Dating on the Dork Side is a seamless collaboration between two different people. Unlike other books where you can tell the authors and their styles apart, Tahmaseb and Vance work together flawlessly. Their unified voice creates believable characters that are guaranteed to remind you of someone you went to high school with (or even of yourself). Their books are smart and easy to read, with stories that move forward without a lot of the fluff that seems to come out in YA books sometimes.
Dating on the Dork Side is the perfect Christmas gift for the girls in your life – no matter how popular they are!