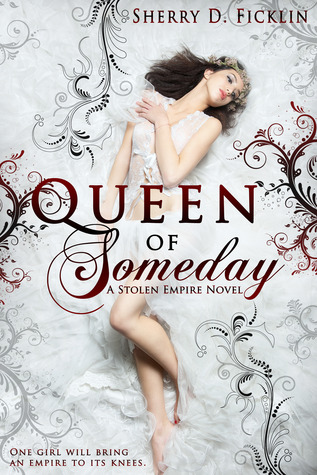 note: I received an advance copy of Queen of Someday from NetGalley and the Publishing House in exchange for an honest review
First things first: I totally picked this book based on the cover. I thought it was beautiful and intriguing, so I thought the book would be worth reading. I didn't know until I was reading the author's note at the end that is was a fictionalization of the life of Catherine the Great. That being said, I loved the story of young Princess Sophie and her tough choice: the man she loves or the throne that will save her family.
Author Sherry Ficklin creates a dynamic and conflicted main character in Sophie. A true princess of Prussia, the stability of her family rests on her little shoulders. She is tasked with winning the heart of fickle Peter, who was adopted by the Empress of Russia when he and Sophie were just children. Peter is a spoiled, pampered prince who is used to getting his way and getting what he wants, and Sophie isn't sure that she is what has caught his eye. In the meantime, she finds herself drawn to one of his men, the romantic and brooding Alexander.
As the empress and Sophie's mother push for a quick engagement, Sophie must learn the ways of being a wife, the ways of wooing the prince who could save her family, and the duty that she knows she must fulfill.
Queen of Someday follows Sophie as she begins her transformation from strong-willed princess to the powerful, dynamic Catherine the Great.
I loved this story and was more than a little excited when I saw it was one of a series of books scheduled to come out. While I know it's a fictionalization, it makes me want to learn more about the real story of Catherine, and that's the mark of a great book to me – it makes me want to read more and learn more about the story that she's telling.