Reviewing my blog has revealed a big ol' hole. I haven't actually written any reviews for Natalie Whipple and her amazing books. This is being remedied now in the all-inclusive Natalie Whipple Edition of Book Review Wednesday! Natalie is one of my favorite writers and bloggers. She's real and honest and she always makes me smile. She doesn't sugar coat the fact that being a writer is a hard job and that insecurities can run high. She doesn't shy away from publishing her books the way she wants them. She is smart and lovely and just a genuine person. AND, she's written some of my favorite YA books to date:
In No Particular Order:
THIS BOOK, PEOPLE.
If you only read one of Natalie's books, which is silly, please read this one. From the very first pages you can tell this is a book after her own heart. It's about the bonds between women in families. It's about moms and daughters and grandmothers. It's about friends and family and trusting. It's about light in darkness and the very real idea that nothing comes without a cost. It's about the beauty of friendship and the heartbreak of first love.
Josephine is the perfect female heroine. She's blunt, confused, and a 100% teenager, just with some special powers on the side. She wants to be there for her friends, but she doesn't want to involve them in the mess that is her life sometimes. She is falling for a boy, but could he be nothing but a disaster and a distraction? And, on top of it all she has to deal with the death of her mother and her quickly ailing father – oh, and she's a witch.
I have told everyone I know to read this book at least one time, if they have any interest at all in YA. House of Ivy & Sorrow is beautiful and complicated. One of my favorite parts of this book is the idea that magic comes with a cost – and you have to be willing to pay the price for the power you wield. Sometimes the cost is small, and sometimes it's huge. And sometimes, just sometimes, you have to let other people make the sacrifice to give you the power to do what must be done.
House of Ivy & Sorrow is a stand-alone book that tells a whole story, and I love it. You can hear how much this book meant to Natalie Whipple on every page. It is a true labor of love, and it shows through every word. Not to mention it has a to-die-for cover.
Transparent Rocks.
Invisible Girl. Power-hungry Father. Girl on the Run. Unexpected Love.
Natalie's debut book, Transparent is all about people with unexpected powers. Fiona is a girl who is tired of doing her dad's dirty work, and so she and her mom make a break for it. Turns out being invisible has perks and drawbacks. Fiona is just one of many people with powers that set her apart in the world of Transparent, but she is easily one of the most famous. When her dad comes looking for her, Fiona knows she has a choice: run and hide or stay and fight. With a group of friends and family at her side, she makes a stand, and, in doing so, changes everything.
Transparent is just a fun read. It's full of memorable characters and witty dialogue. You feel like you're reading a little bit of an X-Men type world, one where a few people rule and Fiona is one in a million. Add to that all the memories of what it was like to be a high school girl and wanting to be invisible and I thought Natalie did a fantastic job exploring and exploiting a complicated world.
After you read Transparent, pick up Blindsided, the sequel!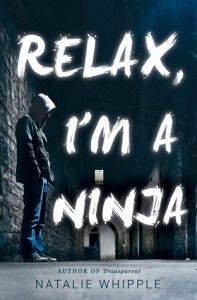 Relax!
Relax, I'm a Ninja is both hilarious and complicated. I love that Natalie loved this book enough to self-publish it and then blog through the process of what that is really like. It was hugely insightful as a hopeful author and as a reader.
Relax is about a clan of ninjas in current day San Francisco. Tosh is the son of a clan leader, and is part of an elite force of ninjas. As people start mysteriously dying around him, Amy is brought into the clan, and everything gets more complicated. For one thing, Tosh's best friend has the hots of Amy, but Amy and Tosh find themselves drawn together by forces out of their control. And, for another thing, it looks like there is another clan of ninjas in the city – but are they the good guys or the bad guys?
Relax relies on a strong narrative about ninja culture and training, as well as basically adding the city as another character to the story. Relax is longer than Natalie's other books, and feels a lot bigger in scope and story, as well. There is a lot to love as you explore the culture and customs that make up the ninja clans. I felt like I was getting a lesson in Japanese culture, as well. When Tosh & Amy have to choose whether to fight together or fight being together, the feelings are raw and real.
There is a lot to love about this book. I love that the characters are not cookie-cutter characters you see in a book. I love that Natalie writes a strong male character lead. I love that it's set in modern times, but relies on ancient arts and practices. I love that, through the fights and training, it's also a story about falling in love for the first time, choosing your own destiny and learning to stand on your own two feet. It's about parents that are not perfect and asking forgiveness for doing dumb stuff. Oh, and it's about saving lives and choosing to be a part of something bigger than yourself. It's a great, fun read, and it's just the first of a series. Trust Me, I'm a Ninja is out now, as well.