I'm Back! 🙂
Later this week I will explain why I haven't been posting much lately – November was an awesome, albeit insane, month. But, more on that later. I am jumping back into the Make a Difference Monday community by talking about something that is important to me and near and dear to some friends.
Now, if you know anything about me, you know that I am not exactly an athlete. I can sum up my athletic prowess and experience quickly. Sixth grade basketball (where no one got cut) and track (where no one got cut). Seventh grade cheerleading (where I think I made the squad only because I broke my hand the day before). That's it. Unless you count lots of years of marching band and theater, which aren't sports, but sure kept me in better shape than I've been in a long time.
So, I am not the target audience for sports outreach in some ways. Don't get me wrong, I love my Colts and Hoosiers and am a fantastic spectator. Add to that the fact that we don't have kids that participate in youth sports activities, and I seem like an even stranger supporter of these organizations. But, here's why I believe in them, especially in programs like Distinxion, a program run by sweet friends and their family.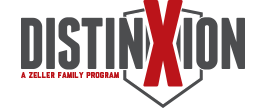 DistinXion is about doing things differently. It's about building strong, confident athletes that have a sense of ownership and pride in their abilities. But, it's also about building people of character who put others first, understanding the meaning of sacrifice, and give more than they receive in their world. Kids that attend their basketball and cheerleading camps learn skills that will help them be successful athletes, for sure. But, more importantly, they learn skills that will make them better people in their world. DistinXion is about the emotional, physical and spiritual development of their campers. It's an excellent program staffed by people who know what they're doing and love your kids!
So what? What if you're like me? I could have zero skin in the game, so to speak. I could just say good job and let it go at that. But, here's why you should care about sports outreach programs like DistinXion.
Character Matters. There is a good chance that kids in your life, whether they are yours are not, will want to play sports at some point. Why not encourage programs that don't just teach you about winning the game, but about being a winner in life? Skills will get you so far, but your character is something that will define you for a lifetime. Supporting programs like DistinXion is a reminder that who people are as important as what they do.
Win (and Lose) Like a Champion. We've all seen those parents in the stands at sporting events. Heck, you might even be those parents at times. You know the ones – the ones yelling at the kids, the coaches, the refs…all in the "name of the game." I get it. I'm a pretty passionate fan myself sometimes. But, I firmly believe that camps like DistinXion teach campers AND their families that the score at the end of the game is only part of the equation – true champions act like champions no matter what the scoreboard says.
The Game Isn't Everything. What sets a group like DistinXion apart from some of the others? At the end of the day, they know that the game isn't everything. It's a piece of the puzzle; a moment in the life. And what you do when you're off the court is just as important as what you do on the court. Campers know that the game is important, but not more important than getting good grades, being a positive member of their community and being respectful of their parents, siblings and peers.
Your Voice Matters. I may not be the target audience for DistinXion, but I can use my voice to make a difference. Why? Because I believe that student athletes of any and every age should be exposed to positive reinforcement in their careers. Every kid who loves basketball deserves to feel like their a champion, right? So, supporting organizations that truly value the development of kids is important.
Learn more about DistinXion and their mission to stand out in the sports camp arena here!
I may never set foot on a basketball court again. I'm about positive I will never put a cheerleading skirt on again, too. But, I will support my friends Luke & Hope and the work they do in every way that I can. I see them making a difference by being a positive, powerful force in the sports community world!