Fun story: A few weeks ago, one of my favorite young adult authors, Kiersten White, held a contest on her blog to win an ARC of her new book, Supernaturally.
The contest was fun – look at the cover of the book and make up a short blurb to go with it – and it didn't have anything to do with the book. So, I thought it would be fun and entered. I spent some time coming up with something silly, hoping it would make Kiersten at least laugh a little. Then, I went on vacation (more about that later) and kind of didn't worry about the contest. There were a lot of entries, and mine was just one of the literally hundreds of comments she would have to read.
And then, one day not too long ago, I popped over to her blog and saw this: I WON! Seriously, go read the blog she wrote! I spent the next couple hours walking around with a silly grin on my face, overly excited about winning this ARC!
And guess what came in the mail today?!?!?!?! YAY! So, in honor of Kiersten and her fun photo journeys on her blog, let me introduce Evie and Supernaturally:
It's a long ride from Southern California to Indiana. I am glad to be out of that stuffy package and so glad there is some sunshine here today. It's a little humid for my taste, though.
These flowers really bring out the red in my cover, don't you think?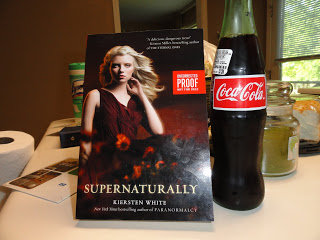 I was thirsty after that long trip. There was no Dr. Pepper in the house, but this Coke from Mexico had enough sugar to keep me awake until I come out in hardback!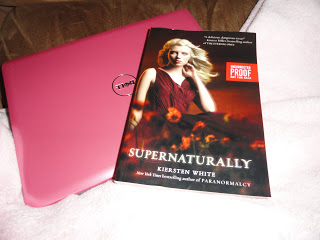 I was going to send Kiersten a note to let her know I made it safely, but I got distracted. Emily's computer is PINK! And so is this super-soft blanket she let me sit on. Pink rocks!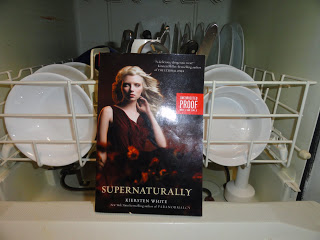 Emily had several chores she had planned on getting done before my arrival. First, she tried to unload the dishwasher…
…then she tried to steam mop…
…then she tried to match all those mismatched socks…
who DOES that?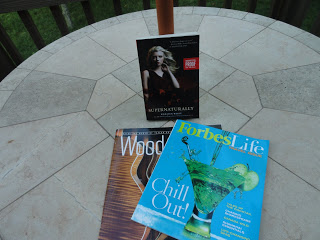 Then Emily thought maybe I needed someone to hang out with after my trip. She started with a couple magazines her husband was reading, but they weren't my type…to say the least.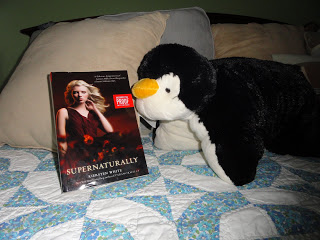 This guy wasn't my type, either. But, he was cute and cuddly, so that was a plus.
Plus, it made me miss Lend a little.
Finally! A friend I can relate to and speaks my language!
Then I showed Emily my surprise inside!
Oh, Bleep! I think I just made her week!
The end.
There you go. My little journey with Supernaturally this evening. I am seriously so excited to read this book, and even more excited that a writer I greatly admire thought my entry was funny! YAY!