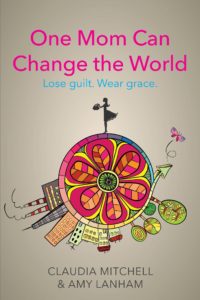 It's finally time to talk about the One Mom Can Change the World book. Written by my friends Amy and Claudia, One Mom is all about encouraging moms to believe in themselves, trust their instincts, rely on God and be ready to be world changers. And, One Mom is a rallying cry for moms everywhere – they are good enough, strong enough, faithful enough…simply enough.
As a #nonmom, I wasn't sure One Mom was for me. I mean, sure, it's a great book written by good friends, but would it matter to me?
The short answer?
Yes.
The long answer?
You don't have to be a mom to deal with some of the issues, insecurities and fears that Amy & Claudia bring to life. As a woman who struggles with issues of self-esteem and self-worth, One Mom is about freedom to be exactly who I was created to be. In a section on community and honesty, Amy says,
"As yes, community. Isn't that what we find when we reveal our secrets? Our souls long for community, but when we keep secrets, we deprive others of the opportunity to surround us with their love and encouragement. Find someone safe!"
One Mom Can Change the World is all about getting rid of the labels we think we have and replacing them with the label we're supposed to have. Instead of guilt, try freedom. Instead of not enough, try worth it. Instead of guilty, try free. And, each chapter includes questions for study and reflection.
One Mom will help you be a better mom, sister, friend, daughter, wife, and human.
Bloomington friends, join us for the official One Mom Can Change the World launch party from August 30 from 6:00pm-7:30pm at Sherwood Oaks Christian Church (enter Door 1).
Did you Love One Mom? Link up your review below!