Subtitle: The Storytelling Secrets of the New Masters of the Radio
Author: Jessica Abel
Publication Info: Broadway Books, a Division of Random House (2015)
Summary:

To say I loved this book would be a grand understatement. I picked it from a list, just because I was trying to get a variety of books and opinions throughout the class. However, once I started reading, I couldn't stop. Out on the Wire is a comic book about the radio, a medium that most people consider completely auditory. What author Jessica Abel says, however, is that radio is visual (like one of her close friend, NPR's Ira Glass), says.
Out on the Wire is a captivating look at what it means to make good radio programs that go beyond talking heads a little music. But, it does so in such a funky, modern way that you forget that you're learning a ton about the radio process. The graphic novel illustrates everything from picking stories to editing, and does it seamlessly, all while telling the bigger narrative of why the radio still matters today, no matter how you listen (in the car, at work, online, etc).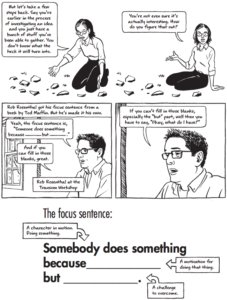 What surprised me the most about Out on the Wire is just how good it is. It's all black and white pencil illustrations, and there is a lot of dense information in it. But, at the same time, it's powerful, funny and interesting. This is a book about capturing people's stories and the essence of what makes them human. It legit made me want to read more about the radio – and turn on the radio.
Read-Alikes and Other Books
Out on the Wire is the perfect book for people interested in a career in radio or podcasting. Other great resources include:
Websites and Other Activities