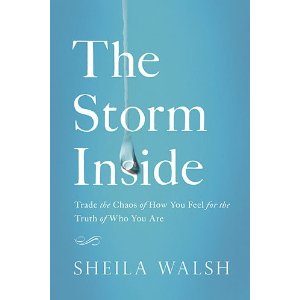 Earlier this year, I was invited to be a part of the launch team for a new book by Sheila Walsh entitled "The Storm Inside." I first heard Sheila speak at a Women of Faith conference several years ago. Since then I have read several of her books, always appreciating their blend of spiritual truth, practical stories, and an honest kick in the pants when I need it 🙂 Here is my official review of "The Storm Inside," which comes out today!
"The Storm Inside" is a thought-provoking look at what it means to follow Christ through the not so good times of life. it seems like faith is easy when the storms are calm; but, when the waters are raging, it can sometimes be hard to remember Who can calm any storm in life. We so often create our own storms and hold on to our ship as it sinks. This book reminds us that it's not just about us and our ability to survive the storms intact, but that God wants us to survive the storms in joy, living fully in who He is and what He promises. Nowhere does it say that there won't be storms, but we are promised that the storms will not beat us, as long as we hold on to God.
Ms. Walsh writes like she speaks; with honesty, vulnerability and integrity. This book references the parts of her life that qualify her to speak into the storms of a reader's life without asking for pity or making the reader feel like their personal storm isn't scary enough. Through honest discussions on shame, guilt, forgiveness, pain and acceptance, "The Storm Inside" is the perfect, challenging read for someone who feels like the world is raging against them or even those they love. Full of practical wisdom and solidly built on a foundation of God's word, "The Storm Inside" is a must-read for people who feel like giving up may be the only option. Walsh's understanding of scripture and deep faith in God shine on every page.