Summer vacation? What summer vacation? This summer was one of the craziest, busiest and most exhausting of my life. It was also a ton of fun and a huge blessing, so I wouldn't trade it for anything.
Instead of having a summer vacation, I spent the summer running back and forth between my job at the church and the Ellettsville Branch of the Monroe County Public Library. I finished up my schooling for my LTA (Library Technical Assistant) degree this summer with an internship. Let me tell you, 144 hours in just about 9.5 weeks, on top of a regular job, is insane. Wonderful, but insane.
This summer, I spent a lot of time hanging out in this room:
Photo courtesy: MCPL info on Flickr
It was so much fun familiarizing myself with the collection, watching kids get excited about books, helping them find "just the perfect one" and exploring what working in a library really looks like. What I learned was that I love it. And, I especially love working in a branch library setting. I was able to do so much more than I ever thought; I worked the circulation and reference desks, helped with programming and summer reading, pulled pick lists, created book lists and even completed a project for my supervisor, Stephanie, while I was there.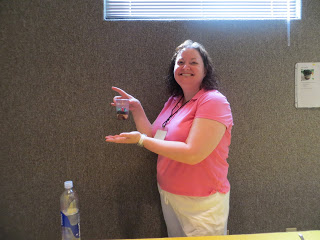 I also became an expert at making dirt pudding.
When I wasn't at the library or at my desk at work, I was home – usually doing homework or working on my portfolio to finish up my degree. Still, now that it's all said and done, I miss it. I made some great friends at the library, and I reconnected with a part of me that had been dormant for awhile.
Now that summer is over and I'm looking at fall, a slightly more relaxed schedule and still months and months of 2013 to embrace, I'm excited for what's next: whatever that is!