Title: March (Book Three)

Author: John Lewis (with Andew Aydin)
Illustrator: Nate Powell
Publication Info: Top Shelf Productions (2016)
Summary:

March (Book Three) picks up right where the first two left off, telling the story of Senator and civil-rights activist John Lewis. The first two books deal a great deal with Lewis' growing up years and the early years of his activism, but book three jumps right into a world and country in chaos.
From the beginning, the March books captured the public's attention. Not only were they the story of an ugly part of American history, but they felt contemporary and deeply personal as race issues continue to plague who America is and who we, as a country, want to be. From his childhood to the streets of Selma, Alabama, Lewis' mission to change the way America sees people of color is clear.
The March trilogy is a crash-course in the civil-rights movement. You will learn more in these three books that you probably encountered in all your history classes. It's powerful and disturbing. From churches being burned to bodies being covered up, Lewis tells it like it was – including the moments where he lost a little faith and wasn't sure the way they were trying to change America was the right way.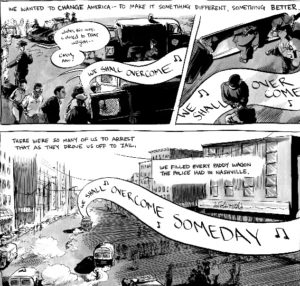 My only frustration with March is that the end of the third book feel so rushed. There is still so much between the conclusion of the book and the publication of March Book One that I would like to have known. Getting the vote was just the first step; it was not the last. I had the distinct pleasure of meeting Mr. Lewis and Nate Powell when they spoke in Bloomington in 2015. Lewis' stories are fascinating!
Read-Alikes and other Books:
Websites and Other Activities