Title: Ada Byron Lovelace and the Thinking Machine 
Author: Laurie Wallmark (illustrations by April Chu)
Publication Info: Creston Books, LLC, 2015.
Suggested Age Range: 5-9
Summary:
Ada Byron Lovelace and the Thinking Machine is the story of famous poet Lord Byron. Unlike her poet father, Ada is fascinated with numbers and mathematics. This short book is a summary of Ada's life, from her childhood through early-adulthood. Told is short sentences and beautiful illustrations, Ada Byron Lovelace is a fascinating look at a woman many don't know about – and how she influenced the world.
Ada Byron Lovelace includes an author's note about Ada, information about early computer programs, the many nicknames Ada was known by, and additional readings for people who want to know more about the female scientist and mathematician. The author also included a timeline of Ada's live and a bibliography of the books she used to create the story.
I'm somewhat ashamed to admit that, before picking up this book, I had never heard of Ada Lovelace. There is a chance she was glossed over in a high school class, but if she was, it didn't stick in my head. I'm always fascinated with books about women breaking social barriers, especially in the 19th and early 20th centuries. Lovelace was a mathematician in a time when women were not supposed to think of such things.
The book details much of Ada's childhood, which makes sense since it's a children's book. The "thinking machine" detailed in the title appears just a few pages from the end and is almost an afterthought. Since the machine never came to fruition, the book is more about Ada following her passions than it is about the actual thinking machine. In addition, the last two pages of the book summarize how Ada influenced the computer age – a computer language is named after her, which is used to guide modern aircraft, satellites and spacecraft.
I believe this book is a great addition to a classroom and/or library collection, especially for girls who might be interested in more STEM-based subjects and want to know more about other girls and women who are scientists, engineers,
and mathematicians.
The image, above, toward the end of the book, encompasses the beauty of the illustrations and the unique way the story is told. Ada always looked to the future and what could be, instead of what she was told already was. The telescope is symbolic of the stars, where the Ada programming language would be used.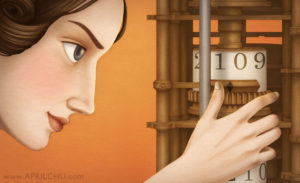 The above photo is an illustration of the first time Ada sees her friend Charles Babbage's difference engine. This machine is what made Ada develop an algorithm to help the machine solve complex math problems. This scene is crucial to understanding Ada's life. Without the difference engine, who know where Ada's life would have taken her.
Read-Alike's and Other Books
Readers who love Ada Byron Lovelace and the Thinking Machine would probably be interested in other STEM-related books for young readers. Here are a few:
Activities, Websites and More
Pair Ada Byron Lovelace with other activities and websites to create a better learning experience. As more and more people focus on STEM activities and how to make sure girls continue to be passionate about mathematics and science, it's important to provide well-rounded activities and ways to learn more!
These websites have great information on STEM education, including additional reading lists, activities and ways to get the whole family excited about people in history like Ada: