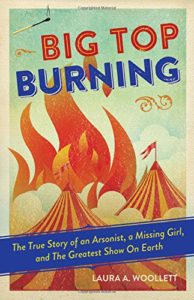 Title: Big Top Burning

Subtitle: The True Story of a Arsonist, a Missing Girl, and the Greatest Show on Earth
Author: Laura A Woollett
Publication Info: Chicago Review Press, Inc. 2015
Suggested Age Range: Grades 5 and up
Summary:
Big Top Burning is the true story of the Ringling Brothers and Barnum & Bailey Circus disaster of 1944. A fire broke out, and just a mere 10 minutes later, the big top had been destroyed. All told, 167 people lost their lives that day. Amongst those affected by the tragedy were Mildred Cook and her three children, Donald, Eleanor and Edward. Though injured, Mildred and Edward escaped the fire. Donald was rescued by another family and taken care of until he could be reunited. Edward later died in the hospital from his wounds. But the real mystery is what happened to little Eleanor Cook? The mystery of Eleanor and what started the fire is central to the book.
Big Top Burning is factual without being graphic, even when talking about the dozens of children burned, and the bodies of people that were unrecognizable after the fire. Author Woollett uses photographs from that day to highlight what happened, as well as setting the background for why the circus was such a big draw during World War II America. Even when the book provides "answers," it is quick to say that this is what the current thoughts are, but impossible to know for sure.
Big Top Burning is factual and fascinating. I learned a ton about something of which I had only a vague memory. Interestingly, the author also includes stories from famous families that are still a part of circus lore, like the Flying Wallenda's, who were performing when the fire broke out.
Read-Alikes and other Books
Websites and Activities