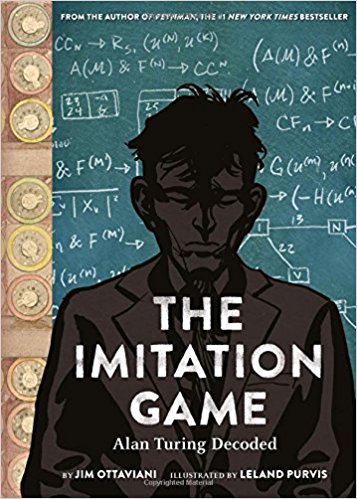 Title: The Imitation Game: Alan Turing Decoded
Author: Jim Ottaviani
Illustrator: Leland Purvis
Publication Info: Harry N. Abrams (2016)
Suggested Age Range: Grades 9 and up
Summary:
The Imitation Game: Alan Turing Decoded is a graphic novel about the life of Alan Turing, the mathematician genius who helped stop World War II by helping break the Enigma Code. This graphic novel has multiple narrators, all who tell different parts of Turing's story, and how he shaped the world. Not only was Turing a complicated man with a complicated history, he was also a recluse, a genius, and a gay man leading a secret life during a time when being gay was not just frowned upon, but also a crime.
Telling Turing's story in this manner helps people who may want to learn more about Turing do so in a format that many younger people are drawn to. While the multiple narrators and flexible timeline can be a little confusing at first, the strong visual story makes it compelling and exciting.
The Imitation Game covers Turing's early life from boarding school to his involvement in the military. Author Jim Ottaviani does a brilliant job of weaving the facts of Turing's life with just enough additional information to make readers forget that they are reading a non-fiction narrative and not a fictional story. Turing was a real person, really persecuted for his sexual identity, and really the man behind so many advancements in technology.
Turing's legacy is in his breaking of the Enigma Code. Had he and his team not finally decoded the Enigma machine, millions more people would have died and who knows how much longer the war would have gone on. Above, Turing tries to explain how his machine should work. But it doesn't work quite like it should.
With just writing and strong lines, The Imitation Game brings to life the excitement and power and understanding of the Enigma Machine. Above, one small tweak and the machine comes to life!
Turing's life and legacy are worth knowing, despite the fact that who he was was mostly hidden from the world for decades.
Read-Alikes and Other Books
People interested in lives of pioneers in our recent history may like books like the following:
Websites, Activities and More
Help students learn more about science during WWII and more.