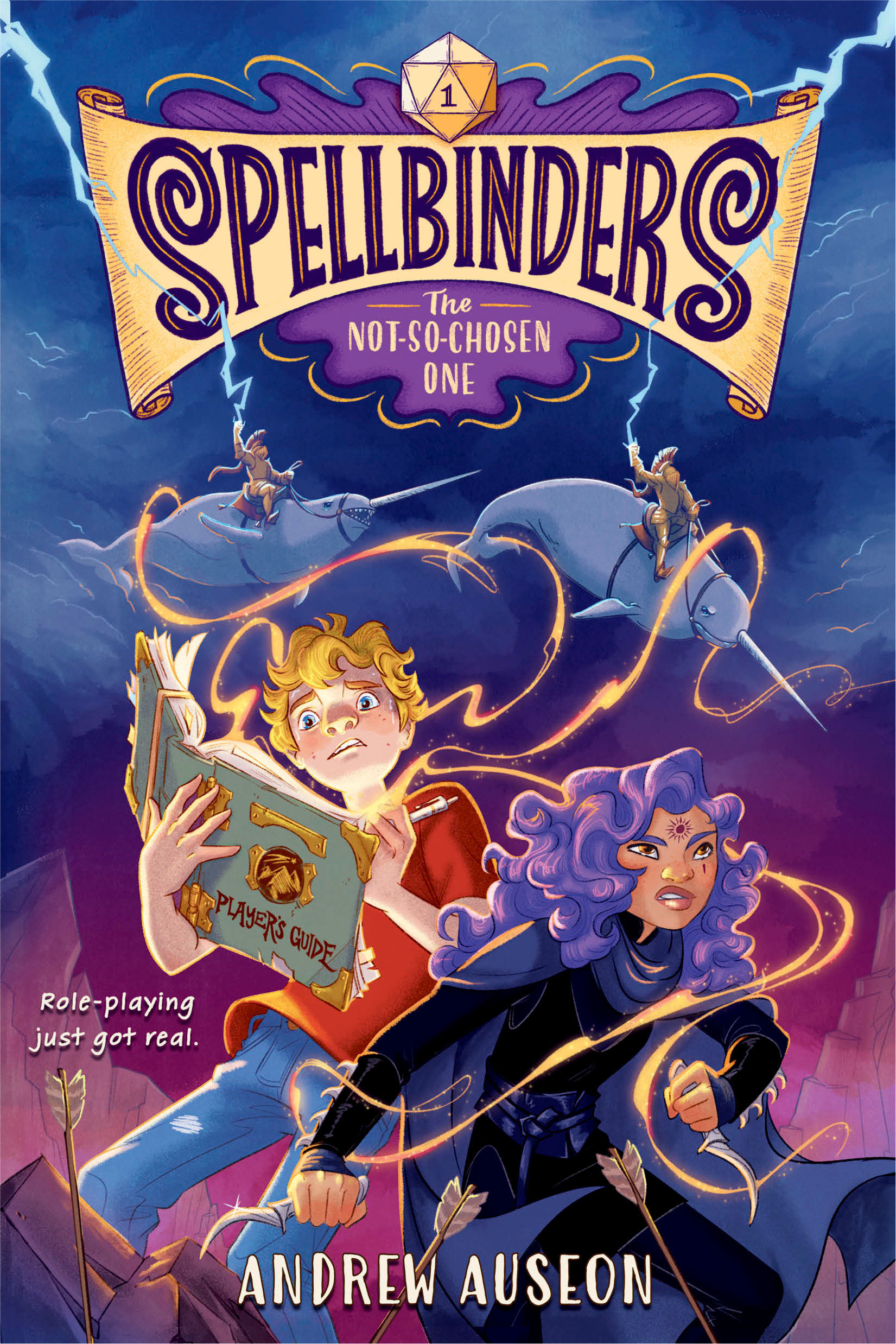 "Ben may only be pretending to be the 'Chosen One'—but I've definitely chosen this one as my favorite new fantasy series."
—Max Brallier, #1 New York Times bestselling author of the Last Kids on Earth series
How far would you go to play the hero? One lonely seventh grader gets way more than he bargained for when he is swept into the fantasy quest of his gaming dreams in this magical illustrated series full of laughs, adventure, and twists.
Ben doesn't feel chosen by anybody—not by his friends, who haven't kept in touch since he moved after his parents' divorce, or by his mom, who's so busy he barely sees her. He spends all his time living in fantasy worlds and writing extensively planned adventure campaigns in his role-playing-game notebook. 
So when Niara, a character who could be right out of one of his favorite games, shows up and tells him he's destined to save her realm (like, foretold-by-a-prophecy destined), Ben has two possible tell her the truth or play along. He's tired of feeling left behind, so his choice is clear—game on.
One interdimensional portal later, Ben is in full hero mode. At first, adventuring in Lux seems like a dream come true, but pretending to be the Chosen One—and lying to his new friends—isn't quite what he imagined it to be. And the more he learns about Lux and his quest, the more he realizes this is way beyond a game—and the rules seem to be changing as he goes. In fact, it might be time for him to write some new ones.
Get the Book here:
Goodreads: https://www.goodreads.com/book/show/62562908
Amazon: https://www.amazon.com/Spellbinders-Not-So-Chosen-One-Andrew-Auseon/dp/0593482719/
Barnes & Noble: https://www.barnesandnoble.com/w/spellbinders-andrew-auseon/1142194711
IndieBound: https://bookshop.org/p/books/spellbinders-the-not-so-chosen-one/18849999
Author Interview:
What made you want to write a story that combines gaming and fantasy and the real-life struggles of being an out of place kid in the world?
I love this question because it's easy. 😀 Historically, gaming and fantasy fandom communities have been largely populated by people searching for others that share their specific interests; coincidentally, these were often the same people who felt alienated from mainstream culture. Combining fantasy role-playing with a story of outsiders and belonging feels very organic, which I suppose is why that trope is used so frequently in fiction. Everybody's looking for the place where they fit in. When it comes to my own kids, we refer to these sought-after groups as "your people."
Ben, the main character of Spellbinders: The Not-So-Chosen One, loses "his people" very early in the story. A move to another town upends his life, and he loses his best friends, his neighborhood community, and his family unit. In response, Ben retreats into the imaginary world of role-playing games that he often builds around himself as a refuge from the outside world. Except this time the world is real, full of real people and real stakes. Even in a realm of high fantasy, people experience real-life struggles that mirror his own. Every fantasy is a reality for somebody.
Gaming is something that "outsiders" don't understand. How does this book make the insider language feel accessible?
One of the very first conversations I had with my editor involved the gaming aspects of the book. Being an illustrated series, Spellbinders includes incredible drawings by artist Lisa K. Weber, as well as a series of design elements that are directly inspired by instruction manuals for role-playing games like Dungeons & Dragons. We decided early on that the book couldn't be "played" and that any game references needed to be vague and silly, not only to fit the tone and voice of the writing, but because gaming is just a metaphor for how Ben approaches his life. It gives him a sense of agency in a time when he feels there is little he can control. Everything in the book is built to this end, to create the recognizable illusion of a game without actually having any substance to it. The hope is that I can reach gamers and non-gamers alike with a balancing act that feels both plausible and ridiculous at the same time. That's kind of how I approach everything. How can I make it both plausible and ridiculous? Lol.
And to briefly comment on accessibility, I think gaming, like any form of popular entertainment, isn't nearly as monolithic as it appears. The culture suffers from a perception and marketing problem. Games have become a bigger, more diverse, and more complex influence on mainstream culture than ever before, and that's tough to get your head around. Think about it. According to a 2018 survey by Common Sense Media, 6 in 10 kids have played Fortnite. Critical Role has become a cross-media IP empire. And at this very moment, The Super Mario Bros. Movie is the #1 movie of 2023, and it's not even close.
What would you do if someone told you that you were a chosen one, but totally didn't feel like it?
That is, quite literally, the inspiration for Spellbinders. I was that kid who hoped for a magical door to open in mid-air during algebra class, or for a messenger from beyond to walk up to me in a crowded room and say, "Finally! I've been looking for you everywhere. Let's get out of here." Call it escapism. Call it an overactive imagination. Call it a short attention span. I don't really know why this happens. But to answer your question, I'll never feel like a Chosen One, no matter how much I'd love to experience that level of confidence and certainty about anything in my life. Most of the time I feel like the Who-Let-This-Guy-In? One. They have a great name for that these days: Impostor Syndrome. But like a lot of kids, I felt overlooked and invisible when I was young, so the idea of any interesting, important person like Niara noticing me and wanting to recruit me for something epic and consequential, that's the dream. It's still the dream.
And yes, I would totally go with them if they asked me. 🙂
Middle school is hard! What inspires you to write stories for this age group?
Is it hard! That's why stories are so crucial to the creative and emotional survival of our kids. Some find them in games or theater, others in fan fiction and physical books. I'm by no means a reading educator, but I recognize that there's something special about the middle-grade age when it comes to childhood development. Books in this genre seem to retain the innocence and charm of chapter books while introducing greater sophistication and thematic daring, creating an alchemy that makes for timeless stories. Even now, in my [AGE REDACTED], I return to middle grade books when I want to experience a certain feeling. It's a conflicting, contradictory sensation of realism (i.e. negativity) with a prevailing sense of hope. I don't know where that strange brew comes from? Maybe another realm, one with unicorns. Also, too many books surrender to seriousness as the intended readership ages. Silly is good! It is pure! Off-the-wall weirdness often gets sacrificed at the altar of maturity and relevance. I don't think that needs to be true. Did I answer your question? 😉
What is the most unexpected thing you've learned about writing and telling stories with the publication of Spellbinders?
That I still have so much to learn—about my writing, my process, my strengths and weaknesses, and how to take what I see working for others and applying it to my own work. For me, writing needs to be an endless series of construction and demolition, of trying techniques only to toss them aside later in favor of something smarter, fresher, and more exciting or effective. Sure, I may be a better writer than I was when I started, but I'm so far from where I'd like to be. When I read a friend's novel or a WIP, I'm astounded anew by the ingenuity and heart in people's stories. It's unexpected only in that every day brings something different to savor and learn from.
On a personal level, I've been staggered by the warmth and kindness of the children's literature community, which includes the whole range of authors, illustrators, educators, librarians, booksellers, parents, and plenty of other people I'm no doubt forgetting. It's an extraordinary and welcoming group. Spellbinders and I have been embraced in a way I never expected, so thank you to everyone who's supported me.