Thank you to TBR & Beyond Tours for this review copy!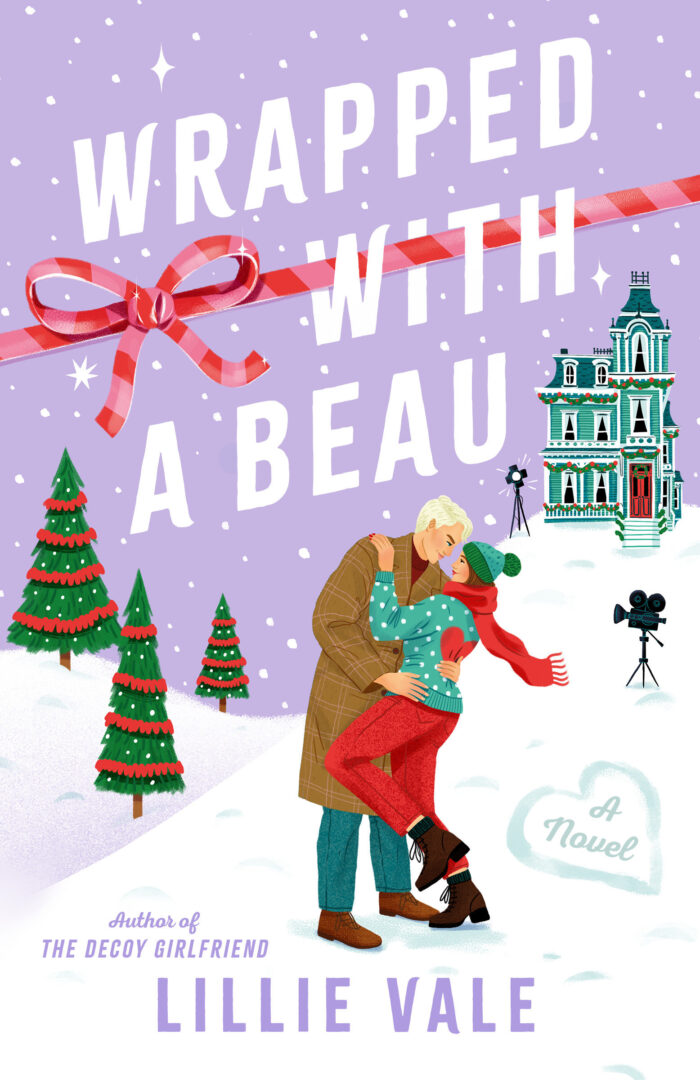 In its heyday, Piney Peaks and its beloved Christmas House were made famous by Sleighbells, a romantic holiday movie. 50 years later, the small town is ready for a new love story.
As a successful film liaison, Elisha Rowe has her heart set on one thing and one thing only: putting her hometown back on the map. So, when she gets the chance to secure a sequel to Sleighbells, she's willing to do whatever it takes to make sure everything goes smoothly. Unfortunately, that includes claiming to have already secured permission to film at the historic Christmas house—permission she was very much denied by the gorgeous new owner.
Ves Hollins is only back in Piney Peaks long enough to sell the house he inherited from his great-aunt. The holidays have always been tough for Ves, and it's not any easier when he's distracted by memories of a Christmas long, long ago, and the undeniable charm of neighbor Elisha. Ready to return home to New York as quickly as possible, he has no plans to put down roots or fall in love…even if Elisha unravels his hesitations like a bad Christmas sweater.
There's no question the two are opposites in every way. Ves is unquestionably frosty. Elisha is brimming with warmth. He doesn't do commitment. She never runs from a challenge. But as the two grow closer, they quickly realize that the growing spark between them may be just what the season calls for.

Book Links:
Goodreads: https://www.goodreads.com/book/show/75500817
Amazon: https://www.amazon.com/Wrapped-Beau-Lillie-Vale/dp/059342204X/
Barnes & Noble: https://www.barnesandnoble.com/w/wrapped-with-a-beau-lillie-vale/1142888482
IndieBound: https://bookshop.org/p/books/wrapped-with-a-beau-lillie-vale/19674552
---
My Thoughts:
It was 95 degrees outside when I started reading this one, so I was not quite in the holiday spirit – or the enjoying winter spirit, but author Lillie Vale pulled me right into the world of Piney Peaks with a spunky heroine and a meet cute that was anything but cute.

Elisha and Ves are the perfect opposite on paper but destined to be together couple. As Elisha charms Ves and Ves allows himself the time to ponder what love and life in Piney Peaks might really be like, they face a series of holiday and genre-appropriate mishaps and miscommunications before coming to a satisfying end.

Author Lillie Vale makes her characters warm and charming, with such sassy one-liners like:

"Actually, do you think we could maybe walk in the other direction? Quickly but also, like, casually."

and

"Ah, yes. The woman dressed like a deranged elf who escaped from the North Pole strikes terror in my heart."
and
Elisha takes a delicate sip of her Spicy Grinch and eyes him over the rim before pronouncing witheringly, "Clearly"
and
Because of all the insufferable things about him, the way he makes her feel isn't one of them.

Cute, charming, and another winner from Lillie Vale, Wrapped with a Beau is a must-read for anyone looking for a little holiday romance to add to their collection.

3.5/5 stars
---
Lillie Vale is the author of books for both teens and adults, including Wrapped with a Beau, The Decoy Girlfriend, Beauty and the Besharam, The Shaadi Set-Up and Small Town Hearts, an American Library Association's 2020 Rainbow Books List selection. She writes about secrets and yearning, complicated and ambitious girls who know what they want, the places we call home and people we find our way back to, and the magic we make. Born in Mumbai, she grew up in Mississippi, Texas, and North Dakota, and now lives in an Indiana college town.
Find her on Twitter @LillieLabyrinth and Instagram @labyrinthspine, or visit her website lillielabyrinth.com
Author Links:
Website: https://www.lillielabyrinth.com/
Twitter: https://twitter.com/LillieLabyrinth
Instagram: https://www.instagram.com/labyrinthspine/