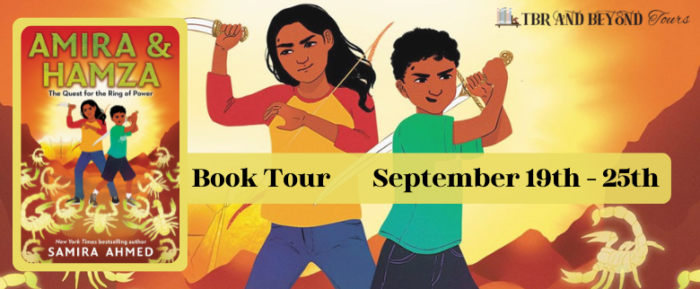 ---
Amira and Hamza are back in this epic sequel, which takes readers on a thrilling magical adventure as the siblings face their most terrifying and formidable opponent yet.
All human and jinn kind shall bow down to me. Control the Ring, control the worlds.

Amira and Hamza have returned from Qaf, the magical Jinn world, as triumphant heroes—and life has been pleasantly quiet. Too quiet. Hamza is determined to have one last monumental, epic adventure before summer ends. But when sneaking off to explore an old, abandoned castle goes from life-changing adventure to potentially deadly, Amira and Hamza find themselves in the middle of another dangerous quest to save the worlds. One they didn't bargain for.
The siblings are brought face to face with the evil dev, Ahriman, angry and out for revenge. And if Amira and Hamza thought Ifrit was bad, his dad Ahriman, the last in an ancient line of fire spirits, is far worse. Ahriman kidnaps Hamza and forces him to help locate the lost Ring of Power, an ancient and mysterious artifact that will allow him to rule the universe. Desperate to save her brother, Amira must outsmart perilous traps and confounding puzzles in a race against time to retrieve the artifact before Ahriman does or say goodbye to Hamza and their world forever.
Book Links:
---
TOP FIVE REASONSE TO READ Amira & Hamza
It's smart! This book is definitely middle grade, but it's so well written. Amira and Hamza are 100% kids and 100% smarties who can and just might actually save the universe. The writing is tight and the story flows fast, so even reluctant readers will be engaged.
Amira & Hamza are hilarious. Their inner monologues and even when they talk to every other being in the world, is funny. They think like kids and they act like kids – which is so important in a book like this. These are kids that your kids and your neighbors kids can indentify with for sure.
It's a great lesson in multi-cultural experiences. There is a lot of lore, mystery, and history wrapped up in this seemingly simple kids book. If you want to expose your kids to other cultures in a fun, excitng way, this is the book for you.
Amira & Hamza are true siblings. They love each other, but they fight. They want to protect each other, but they can be selfish. They're committed to saving each other's lives, but they annoy the snot out of each other. They are each other's best friend, but they fight about their enemies and how to destroy them. They're exactly what you think siblings should be.
There is real stuff hidden in the story. Check out the back of the book when you're done and you'll learn the real history and information about some of the fantastical things in the story. It's a great addition to your bookshelf, and it provides more resources for kids that want to learn more.

---
Samira Ahmed is the bestselling author of Love, Hate & Other Filters, Internment, Mad, Bad & Dangerous to Know, and Amira & Hamza: The War to Save the Worlds, as well as a Ms. Marvel comic book mini-series. Her poetry, essays, and short stories have appeared in numerous publications and anthologies including the New York Times, Take the Mic, Color Outside the Lines, Vampires Never Get Old and A Universe of Wishes.
She was born in Bombay, India, and grew up in Batavia, Illinois, in a house that smelled like fried onions, spices, and potpourri. A graduate of the University of Chicago, Samira has taught high school English in both the suburbs of Chicago and New York City, worked in education non-profits, and spent time on the road for political campaigns.
Samira currently lives in the Midwest. When she's not reading or writing, she can be found on her lifelong quest for the perfect pastry.
Author Links: