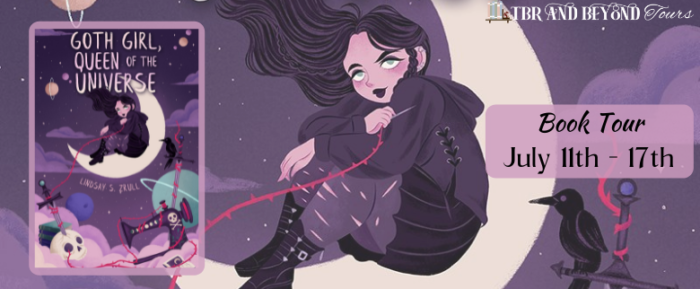 About the Book:
Bounced between foster homes since the age of seven, Jessica knows better than to set down roots. Most of the kids at her new Michigan high school think she's a witch anyway (because, you know, goth). The only one who gives her the time of day is geeky Oscar, who wants to recruit her fashion skills for his amateur cosplay group. But Jess is fine showing off her looks to her Insta fans—until a woman claiming to be her biological mother barges into her DMs.
Jess was claimed by the state when her bio mom's mental illness made her unstable. While their relationship is far from traditional, blood ties are hard to break. There's only one problem: Jess can't reunite with her mom in New York City without a bunch of paperwork and she worries her social worker will never approve the trip. That's when she remembers Oscar's cosplay group, which is aiming for that big convention in New York . . .
So, Jess joins Oscar's team—with every intention of using them to get to her mom. But her plan gets complicated when she discovers that, actually, cosplay is pretty great, and so is having friends. And Oscar, who Jess thought was just a shy nerd, can be as gallant and charming as the heroes he pretends to be. As the big convention draws near, Jess will have to decide whether or not chasing a dream of "family" is worth risking the family she's built for herself. 
---
---
15 Thoughts I had while reading Goth Girl, Queen of the Universe.
When you get a Kirkus starred review and a blurb from Francesca Zappia, I am EXCITED.
Great intro. As someone who usually tries to fit in, I already love Jess's confidence.
Is the instagram handle real? Runs to instagram to check. It exists, but is empty. I'd love to see some goth looks here!
I love the quotes at the beginning of each chapter. I really thought they'd all be Poe, but was happy to see it changed up every now and then. They definitely help set the mood for the chapter.
I really feel for Jess. I get that her mom wants to reach out, but as an instagram comment? That would stress me out and I'm not even her! I appreciate her cynical side.
Okay, Oscar's basement….hahaha. And, I totally know a person that would be Oscar. I love it. And long live geek culture!
Any time there is an Emily in a book, I'm like, "please be a cool character and not a mean girl!"
I love that Jess's foster mom is really trying to reach out and connect, even if it feels forced to Jess. I think she's trying and wants to not change Jess, but I cannot imagine how hard that would be. Also, is Barbra a single mom foster mom? I'm for it!
Jess's first experience with cosplay and a con makes my nerdy heart just explode. And I kinda want to be both more into cosplay and cons than I am.
There is a lot to unpack in this book. I'm glad Jess is willing to risk her Goth Girl exterior for something new.
I hate the part of books where there in conflict, even though I know it's part of what makes books great.
I'm not sure Jess deserves Barbra. She's the best foster mom and her past makes her the perfect person for Jess
Time for Jess to come clean. I already trust her friends more than she does.
This bench scene with Jess and Barb makes me cry.
The Princess Bride. Enough said.
---
About the Author:
Lindsay S. Zrull is a former foster teen and current book nerd. She graduated from the University of Michigan with a Master's degree in Library and Information Science and earned a second Master's degree in Creative Writing from Harvard Extension. Goth Girl, Queen of the Universe is her first novel. You can follow her on Twitter and Instagram @LSZrull.
Website: https://www.lindsayzrull.com/
Twitter: https://twitter.com/LSZrull
Instagram: https://www.instagram.com/lszrull/
Goodreads: https://www.goodreads.com/author/show/21580305.Lindsay_S_Zrull