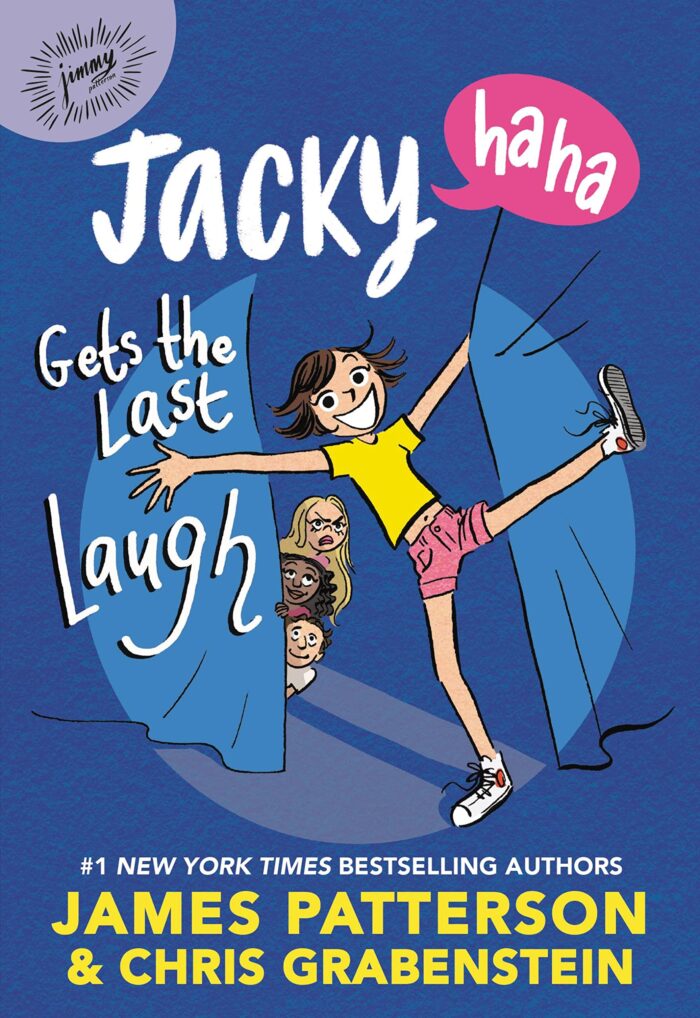 Jacky Ha-Ha is off to theater camp and funnier than ever in this hilarious illustrated novel from James Patterson and Chris Grabenstein's #1 New York Times bestselling series.
Jacky Hart finally knows the thrill of having people laugh with her (not at her). She tries to put her comedy and theater skills to use in her summer job—but the boardwalk crowds aren't exactly adoring. So Jacky jumps at the opportunity of a lifetime: an all-expense paid trip to theater camp!
When Jacky gets to Camp Footlights, she realizes she's way out of her depth. The highly trained campers all seem to know everything about performing, and exactly how to command the spotlight.
All Jacky wants is to prove she fits in, but the more she tries, the more she stands out—and not in a good way. With help from her new friends, can Jacky Ha-Ha earn her place in the spotlight…or will she flop?
Packed with illustrations, jokes, and hijinks, the latest book in the #1 bestselling Jacky Ha-Ha series delivers a hilarious and heartwarming dose of summer fun, perfect for reading all year round.
---
My Review:
Ok, I loved this book. Jacky reminded me so much of the version of me I wish existed as a kid – living out her best life with joy and abandon. She's braver than I was, for sure. She's also willing to take risks and have fun – even when it's scary. When Jacky is offered a great summer opportunity, it turns into something that tries to break her spirit, but Jacky always comes out on top!
As part of this review, I was also able to read the first two Jacky Ha-Ha books, and they are all a delight for young audiences. Safe, and with moral lessons, but not preachy at all – Jacky Ha-Ha is about finding the thing you're good at, or trying something you want to be good at, and making the best of it! When things finally change at Camp Footlights, it's Jacky to the rescue and madness ensues in the most delightful ways!
Goodreads Amazon Barnes & Noble Book Depository IndieBound
---
James Patterson is the world's bestselling author. His enduring fictional characters and series include Alex Cross, the Women's Murder Club, Michael Bennett, Maximum Ride, Middle School, and Ali Cross, along with such acclaimed works of narrative nonfiction as Walk in My Combat Boots, E.R. Nurses, and his autobiography, James Patterson by James Patterson.
Bill Clinton (The President Is Missing) and Dolly Parton (Run, Rose, Run) are among his notable literary collaborators. For his prodigious imagination and championship of literacy in America, Patterson was awarded the 2019 National Humanities Medal. The National Book Foundation presented him with the Literarian Award for Outstanding Service to the American Literary Community, and he is also the recipient of an Edgar Award and nine Emmy Awards. He lives in Florida with his family.
Website Twitter Instagram Goodreads Facebook
CHRIS GRABENSTEIN is a #1 New York Times bestselling author. His books include the LEMONCELLO, WONDERLAND, HAUNTED MYSTERY, DOG SQUAD, and SMARTEST KID IN THE UNIVERSE series, and many fun and funny page-turners co-authored with James Patterson. You can visit Chris at ChrisGrabenstein.com.