I'm super excited to be a part of this fun book tour for My Last Summer with Cass by Mark Crilley. I've only recently gotten into graphic novels, but man, this one is already a favorite. It's sweet and fun, and a reminder than some friendships live in our hearts and lives from our childhood into our own adulthood.
Synopsis:

This One Summer meets The Edge of Seventeen in this poignant coming-of-age YA graphic novel about two childhood friends at a crossroads in their lives and art—from the author of Mastering Manga.​ Megan and Cass have been joined at the brush for as long as they can remember. For years, while spending summers together at a lakeside cabin, they created art together, from sand to scribbles . . . to anything available. Then Cass moved away to New York.
When Megan finally convinces her parents to let her spend a week in the city, too, it seems like Cass has completely changed. She has tattoos, every artist in the city knows her—she even eats chicken feet! At least one thing has stayed the same: They still make their best art together.
But when one girl betrays the other's trust on the eve of what is supposed to be their greatest artistic feat yet, can their friendship survive? Can their art?
I loved this book! It was such a fun journey through friendship, from the early years of Meg & Cass meeting and sharing summer fun to high school where they have gone their separate ways, and to college, where heartbreak might just bring them back together. After a change in her family, Cass leaves her small-town life behind to move to New York. Meg & Cass stay in touch, and Meg goes to visit her during high school. The silly partner in friendship she remembers has been replaced by New York City Cass, a sassy, sarcastic teenage artist living with her mother and trying to make art that matters to her. At one point, Cass exclaims, "Change is everything."
Change is Everything.
This is a book about how we change, and how we stay the same. It is a story about how we live and love and hurt each other. It's a story about how we find our way back to the friendships and people that really matter to us. After Cass & Meg have a falling out, can anything bring them back together? Can their love of art survive? What really makes a friendship, after all?
Maybe the books says it best: "Sometimes friendship isn't just like a work of art – it is a work of art."
My Rating 3.5/4 stars. Easy to follow, the art is beautiful, and the story weaves quickly. I actually would have liked it to be a little longer!
About the Author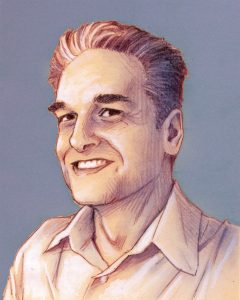 Mark Crilley was raised in Detroit, Michigan. After graduating from Kalamazoo College, he traveled to Taiwan and Japan, where he taught English for nearly five years. It was during his stay in Japan that he created the Eisner Award–nominated comic Akiko on the Planet Smoo, which spawned a series of graphic novels and prose novel adaptations. In 1998, Mark Crilley was named to Entertainment Weekly's It List of the 100 most creative people in entertainment.
Twitter Instagram Facebook Goodreads YouTube