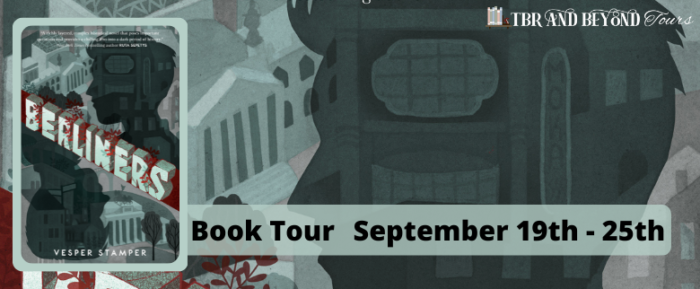 Thank you to TBR & Beyond Tours for the Review Copy! Check out the entire tour here!
---
With the sudden divorce of their parents, the brothers find themselves living in different sectors of a divided Berlin; the postwar partition strangely mirroring their broken family.But one night, as the city sleeps, the Berlin Wall is hurriedly built, dividing society further, and Rudi and Peter are forced to choose between playing by the rules and taking their dreams underground. That is, until the truth about their family history and the growing cracks in their relationship threaten to split them apart for good.
From National Book Award-nominated, critically acclaimed author-illustrator Vesper Stamper comes a stark look at how resentment and denial can strain the bonds of brotherhood to the breaking point.

Goodreads Amazon Barnes & Noble Book Depository Indigo IndieBound
---
Review and Favorite Quotes:

I really enjoyed this book, even though it took longer than I thought it would to get to the action described in the description! There is a lot of build up as you learn about the year Peter & Rudi turn 16 and the wall goes up through Berlin. Rudi is more who I am (trying my best, often failing), while Peter is the golden child, successful, smart, funny, and passionate. As I followed them through their story, here are some of my favorite quotes and why I loved them:

"The Western sectors may have had better movies and pastries. But that wasn't going to save the world." pg 35
It's such a Western brain to want to change the world and save the world, but think that some of the least consequential things ever would do that.
"He preferred to get the day into his bones so he could be equal to its challenges." pg 46
As a NOT morning person, I totally agreed with Peter on this one. Let's ease into the morning, the day, and the challenges. (My friend Tori, on the other hand, is full speed ahead into the day).
"This was it, his answer. But he found, now that it was in his hands, that he couldn't bear to open the envelope." pg 107
Have you ever gotten a piece of mail you've been dying to get, but when it shows up, you're not sure you REALLY want it? That's Peter here and me about 9/10 of the time I get mail.
"This girl was unafraid to stand out, to be new and see it as adventure instead of terror." pg 144
Maybe this also more who I'd like to be. The performer in me is this, but the real Emily is very much a blend in and not be pushed kind of person.
"You were always the minimalist, but now it's me, the last one standing in an empty house." pg 277
Peter is rage-cleaning everything, and finally finds himself like his brother.

The quotes stop there because I sped through the rest of the book. The wall has gone up both physically and metaphorically and the journey toward breaking it down was too interesting for me to keep remembering to write down the quotes I loved.
---
Vesper has a BFA in Illustration from Parsons and an MFA in Illustration as Visual Essay from School of Visual Arts and is the host of the podcast Vesperisms: The Art of Thinking for Yourself, which aims to cultivate a rehumanized worldview through artistic thinking. She lives with her husband, filmmaker Ben Stamper, and her two teenagers, in the Northeast, and teaches illustration at School of Visual Arts.